The Proof is in the Project
Design-build is delivering successful projects of all sizes and in every sector across the nation.
Here are just a few successful (and even award-winning) design-build projects in the Midwest.
Hawkeye Tennis & Rec, IA
Oakdale Research Facility, IA
Geoffroy Hall, IA
Catlett Hall, IA
Central Health Center, IL
Liberty Wastewater Facility, MO
Warsaw Community Schools, IN
Johnson County Comms Center, KS
Projects PDF
Hawkeye Tennis & Rec, IA
Hawkeye Tennis & Recreation Complex, University of Iowa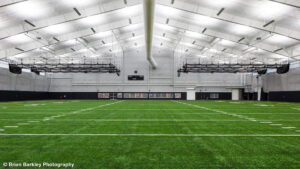 The University of Iowa Hawkeye Tennis and Recreation Complex addition was the Iowa Board of Regents' first design-build project. This unique project was designed to not only provide practice space for the university's tennis, soccer, softball, and golf teams, but also good acoustical practice space for the marching band. The $12 million, 87,000-square-foot addition was designed to integrate seamlessly with the existing structure. Design-build collaboration allowed the project to be delivered on a fast-track while maximizing the University's value by including a number of additional "betterments" including:
Additional windows to provide views of the turf area
Acoustical ceilings
A rain garden
Expanded band storage
Access road linking the new parking area North to Hawkeye Park Road.
Together the design-build team, including Russell Construction and ShiveHattery Architecture+Engineering, delivered not only extra value items but the project also achieved U.S. Green Building Council LEED Silver certification including many green building elements providing ongoing energy savings for the university.
"The university got the best value on this project thanks to design-build."

— Brian Hedgren, Russell Construction Senior Project Manager
Oakdale Research Facility, IA
Geoffroy Hall, IA
Catlett Hall, IA
Central Health Center, IL
Liberty Wastewater Facility, MO
Warsaw Community Schools, IN
Johnson County Comms Center, KS
Projects PDF